Photo courtesy of Global Design Firm WATG
The global design firm WATG is creating sustainable, 300 sq. ft. comfortable glamping pods that offer travelers a fully immersive, luxurious nature experience.
Inspired by the spiraling coil of a shell, these 40-foot tall pods offer a living space large enough to accommodate a king-size bed, lounge area and private bathroom.
This design concept was developed by Senior Interior Designer, Troy Sayakumane and Architectural Designer Zaher Arbash out of WATG and Wimberly Interiors' Los Angeles office. They envisioned Glam Pods for remote locations, such as a residential property's backyard guest house to an off-the-grid lifestyle. "We're seeing a growing trend in travelers favoring remote destinations, with the goal of unplugging, mentally recharging and connecting with nature," stated Arbash. "Glam Pods fuse the outdoor experience with an environment of comfort and style, so travelers no longer need to sacrifice a camping experience over a luxury stay. They can, in fact, have both." 
The pod's interior design includes amenities like device charging stations and built-in solar powered lighting with an eco-friendly smart-home feature. An on-site restroom and walk-in closet are discreetly located in the back of each pod. Potential add-ons include wall hooks and a collapsible desk for guests working remotely. "We wanted to create a concept that could feasibly withstand any environment while maintaining a level of luxury where guests can feel like they have a home away from home," said Sayakumane
WATG got its start in 1945 when George "Pete" Wimberly founded the firm in Honolulu. WATG is one of the world's leading design firms specializing in hospitality, entertainment + gaming, urban + mixed-use and high-end residential design. WATG's interior design firm, Wimberly Interiors, launched in 2008, and is consistently ranked in the Top 20 by Interior Design Magazine in its Hospitality Giants survey.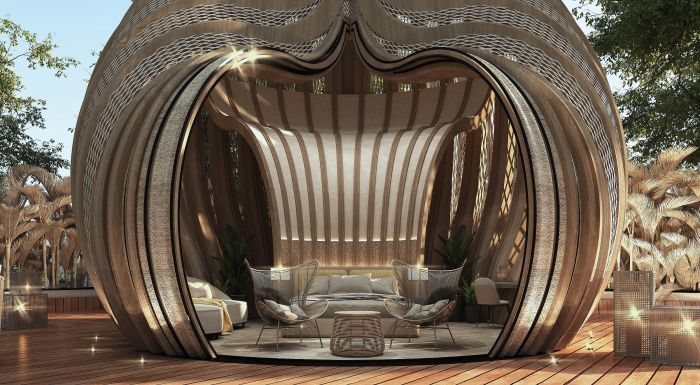 Photo courtesy of Global Design Firm WATG
The construction of Glam Pods is intended to be built through 3D printing to enable mass production and customization. A pod can be constructed in one to three days. Pod plans are printed off-site and then shipped to their desired location where furniture and utility hook-ups would be required.
Rather than traditional construction, 3D printing reduces the amount of human labor and potential damage to the site, particularly in environmentally sensitive areas, allowing Glam Pods to be sustainably installed in any location. Structurally they are more like the integrity of a cabin, safely protecting guests against potential storms and other natural weather occurrences.
Glam Pods are envisioned to be used either individually or collectively and when no longer needed, the pod's spine material can be melted down and reused to potentially print more pods or other 3D printed projects.