Photo by Robert Stevens
Greg Norman's "Tranquility" property on the prestigious barrier island of Jupiter Island is listed for $ 59.9 million. Jill Hertzberg of The Jills Zeder Group at Coldwell Banker Realty explains, "The owners of this fascinating property never have to leave. It offers all the amenities of a high-end resort: tennis, pool, beach, gym, boating, gourmet cuisine, office – all in one place. "
"Tranquility" offers more than 31,800 sq.ft. of the habitat. "It is the perfect name for this home because that is what comes when you step in and take in all that this great property has to offer." Hertzberg said: You and Michelle Thomson of The Tomson Team at Coldwell Banker Realty are representing the sellers.
The former world's No. 1 golfer and Australian entrepreneur bought the property in 1991. He and his wife Kristen (Kiki), expert in hospitality design and founder of the Norman Design Group, built the main house, pool house and beach house on the property completely renovated around and all other areas of the property.
Located on 172 feet of water on the Atlantic Ocean and 370 feet of water on the Intercoastal Waterway, the property features a number of luxury homes set on a sprawling 8.31 acre lot.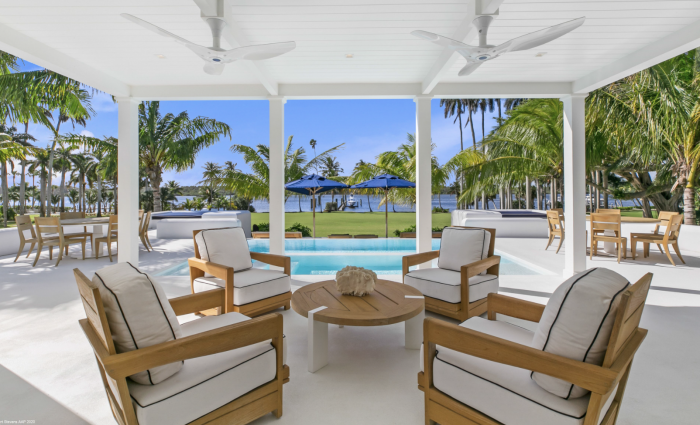 Photo by Robert Stevens
Greg Norman: "After growing up on the beach in the tropics of Australia, looking for the perfect property in America, I considered all of my needs for privacy, security, a dock for my boats and direct access to the beach and ocean, was fulfilled when I was blessed enough in 1991 to encounter "calm". It's a mix of everything I love in and about life. The new construction of our main house under the passionate and professional eye of my wife Kiki has only lifted the entire property to another level. '
Kiki Norman has 20 years of experience in hospitality design. Before that she worked for Hirsch-Bedner Associates and designed 5-star hotels around the world. Her design inspiration comes from all the travel destinations she has lived and visited, including Asia, Australia, Switzerland, Germany, England, Thailand and the USA. Her world travels are reflected in her approach to design: "I designed this property to feel luxurious, but also warm and casual," said Kiki Norman. "It corresponds to our lifestyle of barefoot elegance. My vision was to create a sanctuary, a place where we felt like we were on permanent vacation. and a meeting place for friends and family. The basis of my design was an open floor plan that maximized light and coastal views in every way. "
Working with French architect Christian Liaigre also had a huge impact on the design elements, colors and finishes, including lacquered teak and high-gloss sapele mahogany. Wire brushed custom made oak floors; and sanitary fittings made of solid brass for waterworks and drums.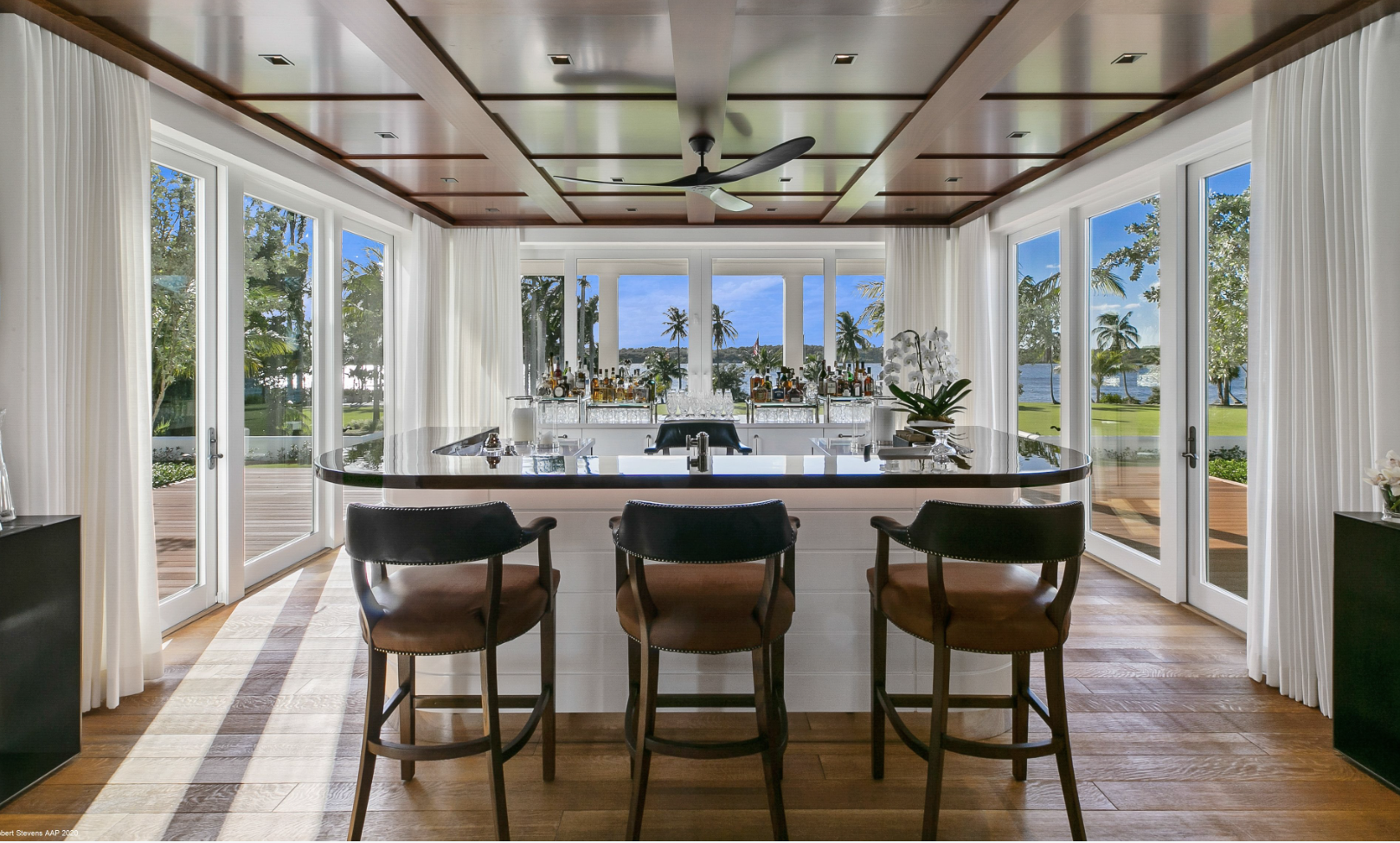 Photo by Robert Stevens
The completely new main houseFirst floor has two bedrooms; a trophy room and gallery; formal dining room and family room; SieMatic Kitchen, Kitchen Lounge, Butler's Pantry, Elevator; Living room with fireplace; Main bar with a panoramic view of floor-to-ceiling glass doors.
The second floor of the main house is exclusively the main quarter with a private foyer leading from the stairs and a large outdoor terrace. There is a den, his own office and her own, his own bathroom and her own, his own and her own closet, their adjoining room, elevator, large living room, luggage room, laundry room, guest toilet and kitchenette.
Tranquility offers a unique property in South Florida – two basements totaling 5,792 square feet. The area includes one bathroom and two bathrooms, as well as an entertainment area with a cinema and two wine cellars with 1,900 bottles.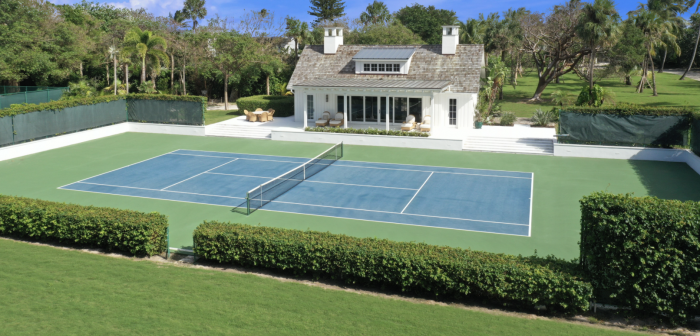 Photo by Robert Stevens
The tennis house offers a covered outdoor area, two bathrooms, a bar and an indoor and technical room next to the sunken US Open tennis court.
The 1,694-square-foot boathouse has space for kayaks, paddleboards, jet skis, fishing rods, and equipment for a yacht. The Intracoastal Dockage is suitable for a 150-foot yacht.
Other areas on the site include a 6,072 sq.ft. Carriage house with a large exercise room and cardio room, fully equipped kitchen, three bedrooms, three bathrooms and a half bathroom. It has a garage space for six additional vehicles and a guest or employee parking space for an additional 30 cars.

Photo by Robert Stevens
The new 3,287 sq.ft. is located on the Atlantic. The elevated Beach House offers panoramic views of the water as well as two bedrooms, two bathrooms, a fully equipped kitchen, and a dining and living room. The beach is technically private as there is no public parking within 4 miles on either side of the beach house.
The secluded and recessed property is a true sanctuary stretching from the ocean edge to the intracoastal with access to both. The exclusive Jupiter Island, an incorporated city with its own active police, first aiders and security, offers the highest level of privacy.
For more information and to contact The Jills Zeder Group, visit JillsZeder.com.